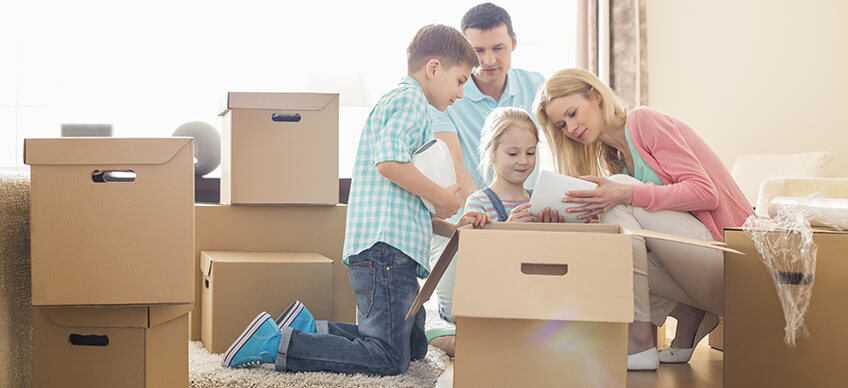 The thought of packing up your whole life into a seemingly endless stream of cardboard boxes is one of the most dreaded aspects of moving. Most people don't realize just how much stuff they accumulate over the years until it's time for a big move. Packing is an overwhelming task, so we're here to keep things in perspective with our top five best practices.
Have Supplies Handy
You don't want to get started packing without the essential items that make it all possible. First, accumulate as many boxes as you can. Whether you need to hit up local grocery or department stores, or take some off your brand new neighbor's hands, this is one item you can't get enough of.
Don't forget the tape and packing materials, you will need plenty of it.
In addition, don't forget to buy color-coded labels to identify the boxes you are packing. Get some brand new Sharpies to write on everything.
Inventory
In order to make sure you don't lose anything during your move, it's important to know exactly what you own. The easiest way to do this is to make lists of everything you've decided to keep after you have (hopefully) purged a good deal of your unused belongings by either donating or discarding them.
Start with Non-Essentials
The most efficient way to pack is to start with your non-essential items, such as all your home décor: artwork, mirrors, and anything hanging on the walls; picture frames, knick knacks, decorative fake plants and even furniture that you don't use. Pack special dinnerware that you use for entertaining, such as glassware, serving platters, and any other tools that you use for special occasions. Out-of-season clothing and extra bedding/ towels are also good to pack in the early stage. Use luggage to pack bulky clothing and linens.
Use Clothes for Padding
Why waste money on extra packing materials that are so expensive when you can use your clothing to wrap up fragile items like electronics and glassware to keep them cushioned in all those boxes? Using t shirts and socks for packing plates, stemware, bowls, and more is a cost-efficient way to kill two birds with one stone when packing.
Pack Essentials Separately
Far too often people wrap up a big moving day, arrive at the new location exhausted, only to realize that they went a little overboard in packing everything. As you approach the end of your packing you should always set aside a few boxes for essential items you need right away, such as box cutters, bed sheets, cleaning supplies, paper towels and toilet paper, bathroom supplies, basic cooking supplies, pet food and dishes, garbage bags, and a few emergency supplies like flashlights and a first aid kit. It's also wise to pack an overnight bag for everyone in your family with enough clothing to get through the first few days.
When you are wrapping up with packing it's a good idea to contact Agility Van Lines for your moving needs. Call 800-756-4340 today for a FREE QUOTE.